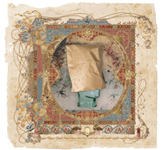 My photo-composite process is a continuation of the tradition that began with collage. Where once artists gathered all their materials from disparate sources and were limited by availability and physicality, 21st C. technology has lifted these restraints. Juxtaposition forms the foundation of my process, and it's the software tools and information superhighways that allow me to intensify my study of 21st C. culture with a visual explosion of associative connections.
Using LightJet imaging technology harnesses my themes of illumination within a printing process. Three digitally controlled lasers simultaneously expose the photo-sensitive emulsion onto silver halide photo paper with red, green and blue laser lights. The way LightJet prints images is the way we see the world, in RGB and not CMYK.
The exposed paper is then processed in traditional photographic chemistry which creates such a strong durable surface that framing without glass is feasible.
I've been printing on Endura Metallic paper, my 21st C. nod to Medieval gilding and the grace of heavenly wisdom. I find its iridescent finish and rich metallic appearance catches the eye and gives depth to my themes of illumination and human self-reflection.

--Leslie Tucker